SECOND GENERATION SETTING FILES FOR DELPHI HC12XX INSTALLED ON HARLEY DAVIDSON
Today we make available the second generation setting files to optimize your daily work: get the most out of your calibrations on DELPHI HC12XX installed on models like CVO Ultra Limited 1923.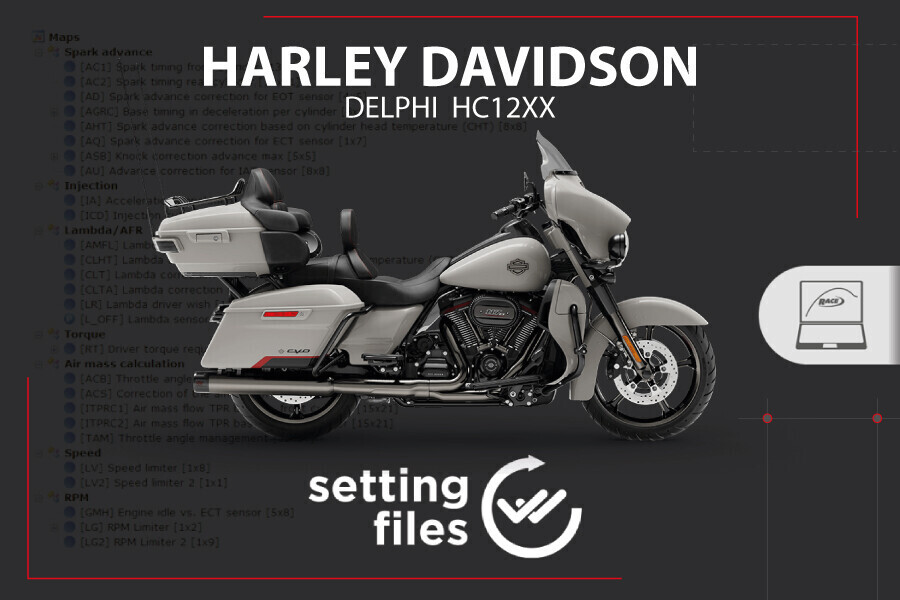 We enable you to work on more effective tuning operations, extending your range of action with 26 engine parameter management maps.
THE ESSENTIAL STRUCTURE OF THE SETTING FILE:
Spark advance (8)
Injection (2)
Lambda / AFR (6)
Torque (1)
Air mass calculation (5)
Speed (2)
RPM (3)
WITH PATCH:
🅟 [L_OFF] Lambda sensor deletion*diagnostic use
Warning! Some Maps, Patch and Options may not be available in your country: contact your Dimsport sales representative to verify it.
CONTROL UNIT EQUIPMENT DELPHI HC12XX
BREAKOUT 1868

MY21 69kW

CVO ULTRA LIMITED 1923

MY21 78kW
ELECTRA GLIDE 1868 MY20 66kW

FAT BOY 1868

MY20 66kW

HERITAGE 1868

MY20 67kW
LOW RIDER 1868 MY20 66kW
LOW RIDER 1923 MY20 78kW
ROAD GLIDE 1868 MY20 66kW
ROAD GLIDE 1923 MY18 77kW
SOFTAIL STANDARD - FXST 1745 MY21 64kW
SPORT GLIDE 1745 MY21 62kW
STREET BOB 1868 MY20 64kW
STREET GLIDE 1868 MY19 64kW
STREET GLIDE 1923 MY20 78kW
RACE EVO SOFTWARE VIEW: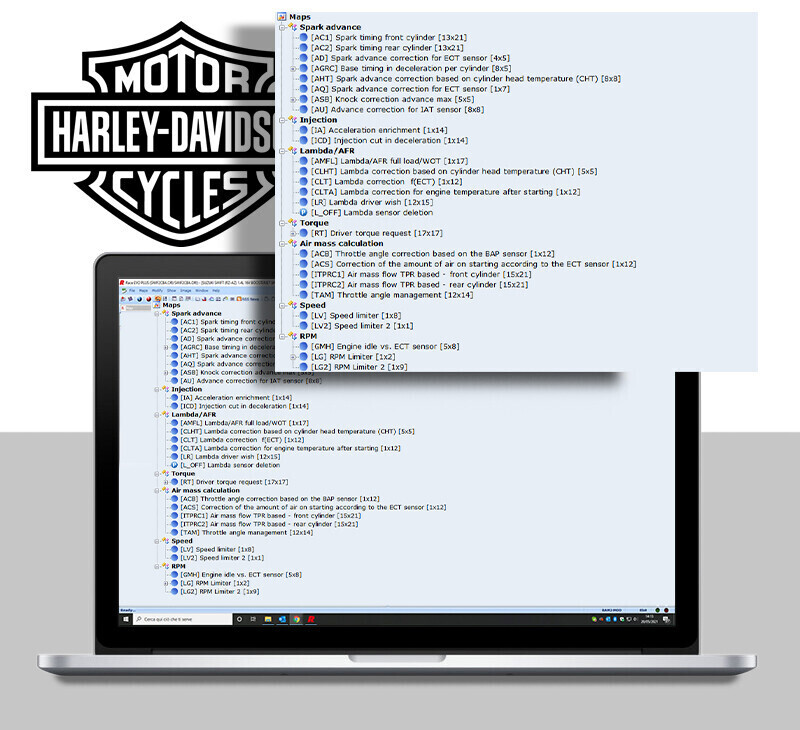 WANT TO KNOW MORE? GET IN TOUCH WITH ONE OF OUR EXPERTS!