Second generation setting files for DENSO ECUs that equips YAMAHA MT09 Euro 5
Today we make available new second generation settings files to get the most out of your calibrations on DENSO B7N-8591A-XX ECUs, installed on YAMAHA MT09 Euro 5​ MY21-22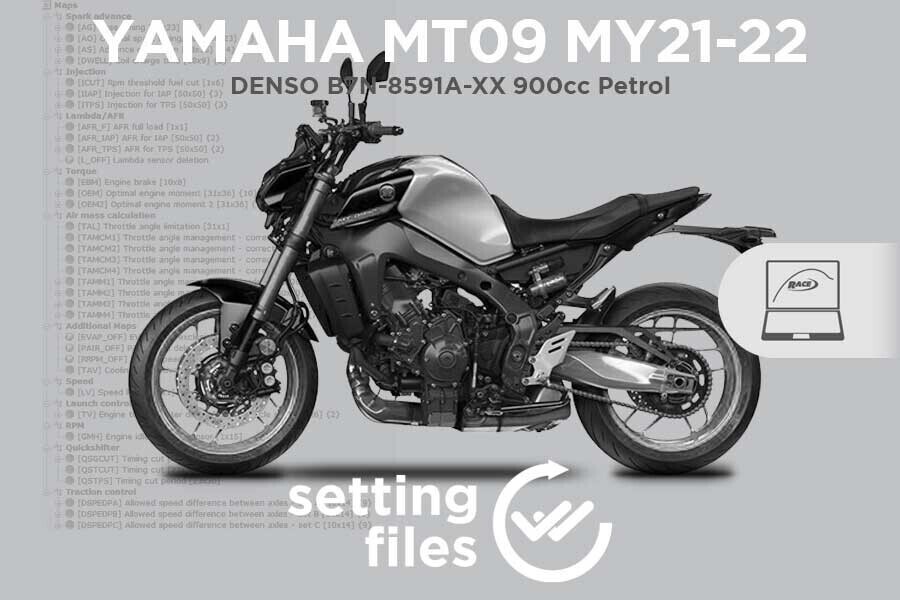 We enable you to work on more effective tuning operations, extending your range of action with 36 engine parameter management maps.
With PATCH:
🅟 [L_OFF] lambda sensor deletion *diagnostic use
🅟 [EVAP_OFF] EVAP valve excusion *diagnostic use
🅟 [PAIR_OFF] pair valve deletion *diagnostic use
🅟 [RRPM_OFF] Rear wheel rpm sensor deletion
These files are useful for vehicle repair and much more. Race Evo software joins the diagnostic tools already in use in the workshops, allowing the operator to carry out targeted operations on individual trouble codes stored in the engine control unit reducing intervention time and costs.
The essential structure of the settings file
Base timing (3)
Coil charge time
Soglia giri taglio iniezione
Injection for IAP
Injection for TPS
Lambda/AFR (3)
Engine brake
Torque (2)
Trhottle angle management (9)
Cooling fan activation
Speed limiter
Launch control
Engine idle vs. ETC sensor
Quickshifter (3)
Traction Control (3)
PATCH (4)
Control unit equipment DENSO B7N-8591A-XX
Race Evo software view:
Want to know more? Get in touch with one of our experts!