SUZUKI V-STROM 650 2023: JAPANESE TWIN CYLINDER'S UNIQUE CHARACTER
Rapid Bike signature on a popular sport-enduro.
V-Strom 650 was released in 2020 and quickly earned the role of best-seller within Suzuki two-wheels range. New 2023 cross-over model raises the level again thanks to a Euro5 approved, 90° 4-stroke V-twin engine delivering 65 cv and 62Nm at 6,300 rpm.
Rapid Bike technicians focused their expertise on this "iconic" Suzuki engine.
RAPID BIKE EASY, THE PERFECT MATCH FOR ADVENTURE RIDERS
Installation of Rapid Bike Easy and correct management of stock lambda sensors signal allows new Suzuki V-Strom 650 to express its full potential. Starting from lower engine revs, fueling proper adjustments is such to enhance both, the bike's practicality and full enjoyment.
LET'S LOOK AT THE NUMBERS!
Rapid Bike Easy is designed to optimize air/fuel ratio and to improve engine efficiency especially at lower engine revs; in addition, it helps reducing unpleasant effects of sudden torque and power gaps.
Power increase is noticeable along the entire power delivery curve, yet it is even more appreciated at partial throttle openings, as showing in the dyno graphs: Rapid Bike Easy improves consistently engine response and makes the bike fully enjoyable from lower revs all the way to full scale.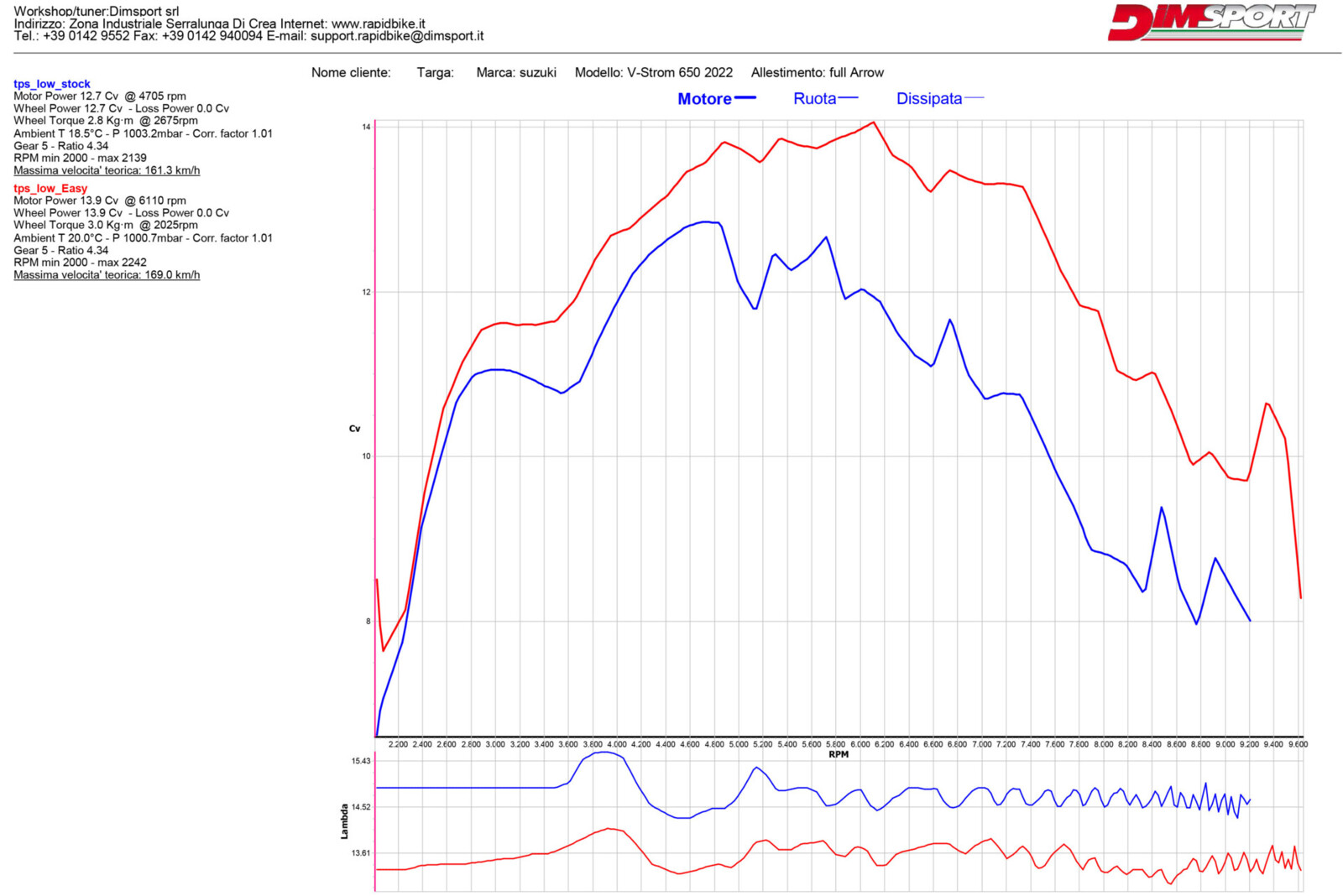 FILL-UP THE FORM FOR MORE DETAILS ABOUT RAPID BIKE!