Easy action, the car power test bench accessible to everyone but without compromise
A NEW ARRIVAL IN THE DYNO RACE FAMILY: EASY ACTION 4WD!
Dimsport is proud to present the new Easy Action 4WD power test bench. Born from the need for a practical and economical solution without compromising in terms of quality, this power test bench has been specially designed to be installed independently and to offer support to a vast audience of professionals in the business.
Today, power test benches have become an essential tool for many activities, such as tuning workshops, test centers, tuners and even government bodies. Thanks to its innovative design, the Easy Action 4WD power test bench offers the possibility of measuring the performance of any type of car with ease and accuracy.
We are excited to bring to the market an innovative and accessible product even for small companies and we are sure that it will soon become one of the most requested products.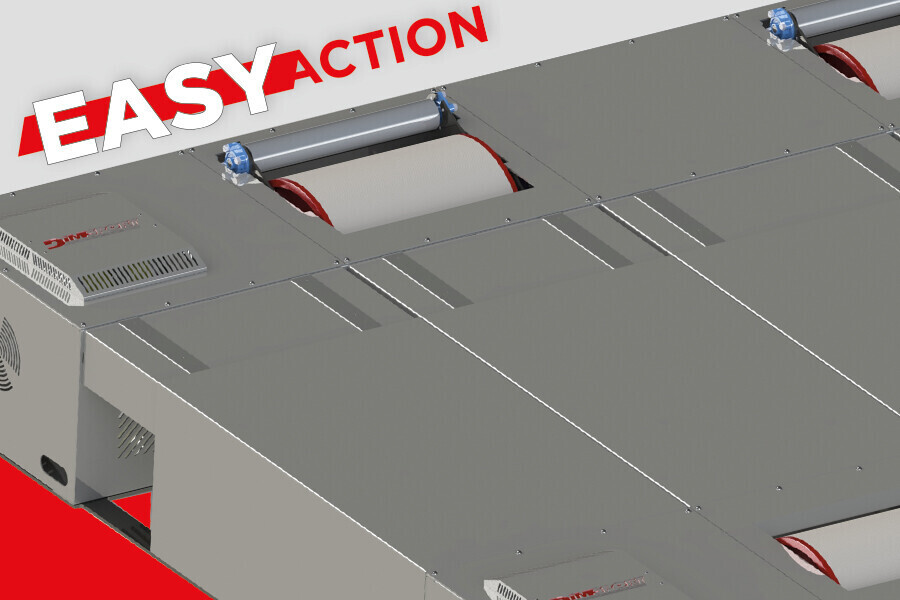 Equipped with mechanical synchronization of the axes (non-disconnectable) which guarantees the same rotation speed of the rollers between the front and rear axles, Easy Action allows you to carry out various tests on latest generation cars, including electric ones.
The essentiality of the components make it the accessible version without technological compromises compared to the top-of-the-range A2ction. Like all Dyno products, the choice of the highest quality components and standards guarantees accurate and effective power tests.
TECHNICAL DATA
DIMENSIONS
Width: 3190mm
Length: 3810mm
Depth: 510mm
Roller diameter: 504mm
Roller width 560mm
Carriageway 1080mm - 2200mm
Wheelbase: 2050mm - 3050mm
Axle locking: pneumatic disc brake (nominal operating pressure 6bar)
Weight: 3250kg
PERFORMANCE
Max speed: 285 km/h
Max power at the wheel: 650kW
Theoretical maximum torque per axle: 160kgm
Max roller revolution: 3000rpm
Max weight per axle: 2500kg
Wheel dimensions: 12" - 23"
Axle connection: mechanical with cardan shaft and bevel gear transmission
ELECTRICAL REQUIREMENTS
Absorbed electrical power 10kW (test bench only)
Power supply 380 Vac (3/N/PE400V 50Hz)
Compressed air 7bar
DATA MANAGEMENT
Roller revolution measurements: hall sensor with speed sensor (32 pulses per revolution)
Force measurement: load cell 500kg
Brake management: 192Vcc/PWM 12 bit
Exhaust gas temperature: probe
Oxygen sensor: AFR/lambda/custom (Bosch LSU 4.9 broadband sensor) X2 sensors
Configurable input: 0-5Vdc X1 sensors
OPTIONAL
OBDII interface kit
Fan 11kW
Anchorings
Positioning rollers
FEATURES
EASY TO INSTALL
Easily installable both in the pit and on the floor. Made from three modules: two shells and a central part containing the pre-assembled cardan shaft.
SINGLE ROLLER
504mm diameter designed to obtain greater inertia, knurled finish that limits the risk of slipping.
DIRECT MECHANICAL CONNECTION SYSTEM
To reproduce the conditions encountered by the vehicle on the road. Non-excludable connection between axles
PARKING BRAKE
There is a parking brake for each bank to be used in emergency situations or for loading/unloading the car
EDDY CURRENT BRAKE
Supported by a forced air duct to keep the load cell within a temperature controlled area
WANT TO KNOW MORE ABOUT EASY ACTION? CONTACT US